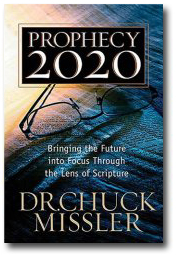 Book Review: Prophecy 20/20: Profiling the Future Through the Lens of Scripture By Chuck Missler
Reviewed by Ray Gano
"Focus on the future through the lens of Scripture with this clear guide. Missler explores the biblical record including Israel, Christ, and Daniel 9; expands on classical end-time scenarios like the tribulation and Armageddon; and examines our present situation in reference to biotechnology, energy, Jerusalem, Islam, global religion, world governance, and more. 256 pages, soft cover from Nelson."
This is what one of the popular book sites had to say about Chuck Missler's latest book, "Prophecy 20/20 Profiling the Future Through the Lens of Scripture."
I have to say that the description does not do Chuck's book proper justice.
It was in September that I contacted K-house, the ministry of Chuck Missler and told him that I would love to review his latest book, Prophecy 20/20. They were more than happy to accommodate me and sent me a copy to review. Chuck even autographed it for me, which was really nice of him.
Chuck Missler is one of my favorites in the Bible Prophecy arena. Because he has a unique background in military intelligence, higher math and physics, history, as well as his other experiences in life, I find his writings to be very well researched. He brings to the table a different perspective that many bible scholars do not present. Prophecy 20/20 is his best work to date.
When I got his book later in October, I have to admit that it took me a few weeks to get to it. I often have books sent to me and I am usually reading about 3-5 books at one time. In most cases I have a book within arms reach where ever I am in the house. Well the schedule got changed once I started digging into Prophecy 20/20. I took it most places with me so that I had it with me to read when the chance arose.
What Chuck has written is a book for today, by looking at tomorrow in light of God's Word. And all I have to say is that he has done an outstanding job. Have you ever had a book grab you with both hands and not let go? Well Prophecy 20/20 did just that. In fact, not only did I read his book once, I read it twice. Chuck has presented so much great information. It is like seeing a great movie and then watching it again because you do not want to miss a single scene or miss one of those small details. When a book like this grabs me like Prophecy 20/20 grabbed me, strap on your seat belt is all I have to say. I also read it with my yellow highlighter. Now the information really stands out and when I am conducting my research I can find information fast when I need to quote an author or book. Needless to say, Chuck's book is pretty yellow now.

Chuck's organization of the information he presents is very easy to follow. He starts with "The Nature of Prophecy." This is a great primer for the new student of bible prophecy as well as the mature student. He has done a good job of laying the foundation so that all can understand. Chuck then continues with "Bible Prophecy Past" and "Bible Prophecy Future." But it is "Prophecy Present: Where Are We Now" where Chuck pulls all the pieces together and shows a concise picture of today in light of scripture.
Many people ask, where is America in Bible Prophecy? This is probably the most asked question that I get. It is also up there on Chuck's list too. I have to say that one of the best chapters in the book is called "The American Challenge." Like many of us in the Bible Prophecy arena, we do not see the USA in Bible Prophecy. But Chuck goes beyond that and paints a very good picture of where we are and where we are going.
Here is kind of an example…
Alexander Tyler 1787 Scottish History Professor University of Edinburgh had to say this about the life cycle of nations...
"A democracy is always temporary in nature; it simply cannot exist as a permanent form of government. A democracy will continue to exist up until the time that voters discover that they can vote themselves generous gifts from the public treasury."
In this Tyler points out that the majority will always vote for the candidates who promise the most benefits from the public treasury, with the result that every democracy will finally collapse over loose fiscal policy. The upsetting next step is that this is always followed by a dictatorship.
History has shown us that the average age of the world's greatest civilizations from the beginning of history, has been about 200 years.
Alexander Tyler states that during those 200 years, nations always progressed through the following sequence:
From Bondage to Spiritual Faith
From Spiritual Faith to Great Courage
From Great Courage to Liberty
From Liberty to Abundance
From Abundance to Complacency
From Complacency to Apathy
From Apathy to Governmental Dependency
From Governmental Dependency back into Bondage
So where are we now...?
For that information, you need to read Chuck's latest book "Prophecy 20/20 - Profiling the Future Through the Lens of Scripture."
If you are looking for that perfect gift for a fellow student of Bible Prophecy this Christmas or even if you want to treat yourself, I highly recommend getting Chuck's book.
My kudo's go to Chuck and the great work he has done. If you get his book and you like it, send Chuck a note for me. Tell him that you read about here in The PZ Insider Report.